Tel: +86-318-8099994
Fax: +86-318-7569991
Address: Wire Mesh Industrial Zone, Anping County, Hebei Province,China
INDUSTRIAL WIRE MESH WELDING PLANTS
Author: admin Time: 2011 - 10 - 19 Click: 21
Application:
Construction mesh, enclosure mesh, seedbed mesh, 3D panel covered mesh
Main Features:
1、the line wire feeding is from coil wires automatically.
2、Both the line wire spacing and cross wire spacing can be adjusted manually within certain range.
3、The cross wire feeding is in pre-cut wire. The originative cross wire feeding disc driven by step motor can drop cross wire one by one automatically into welding, which structure is compact and more reasonable.
4、The finished product can be in mesh sheet or mesh roll. If the output form is in mesh roll, the machine will be equipped with the mesh coiling machine. If the output form in mesh sheet, th emachine can be equipped with the automatic mesh cutter or manual mesh cutter. The automatic mesh cutter can cut the mesh to the desired length automatically without stop welding.
5、Mesh pulling system adopts the springy drag link and positioning device ,which make the cross wire spacing size is more accurate, compared with other similar mesh roll welding machines. Springy drag link type mesh pulling device patent No.: ZL200520024380.9
6、The welding device takes new type of water cooling transformer with high efficiency. Each welding transformer can be adjusted steplessly with separate controller. It can prevent the transformer from heated and protect the welding transfomer itself effectively.
7、In order to adapt to the power transformer capacity and reduce the current impact, the welding control adopts the way of welding in one time but electricity input in several separate phases, that is (i.e.), the welding transformers work separately when welding one cross wire.
8、The electrodes adopts special alloy copper
9、The welding adopts electric and electronic synchronous control technique. Both the welding time and separate phase-welding is composed of digital integrated circuit with high speed, stable function, high precision, firm welding spot without welding track. It is easy to operate.
10、In order to make the quota regulation and control more convenient, it takes digital mesh length counting device, electronic counter, and can control the cutting of the mesh cutter. It is very convenient and accurate to regulate the mesh length data.
11、the main structure is more well-set with complete function and compact which take up very small layout space.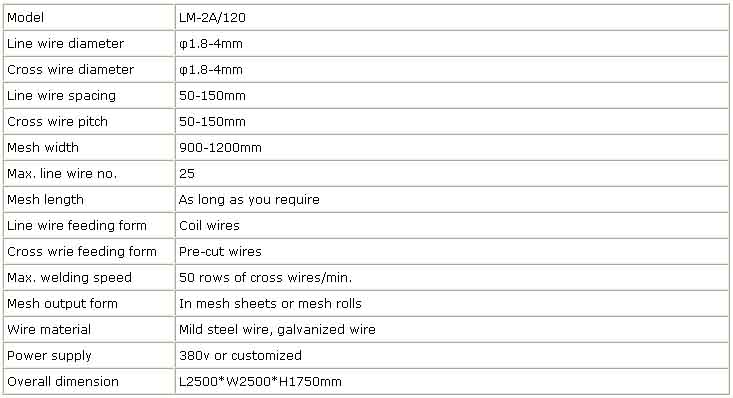 | | |
| --- | --- |
| | |