AUTOMATIC WIRE NAIL MAKING MACHINE (Z94-C SERIES)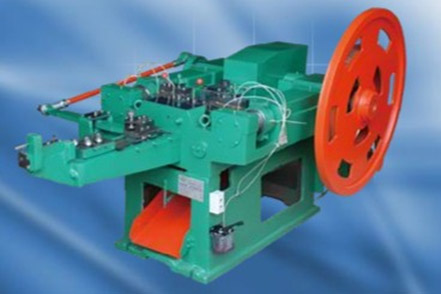 Performance: Z94-C series nail making machine is automatic with high speed and low noise.
Features: The machines adopts plunger-style structure and oil pipe lubricating structure to ensure its high speed and low noise. Especially, it can be used to produce the felt nail and other special nail for high-speed coil nail welder and coil nail shooting gun.
TECHNICAL DETAILS
| | | | | | | | |
| --- | --- | --- | --- | --- | --- | --- | --- |
| TECHNICAL DATA | UNIT | Z94-6.5C | Z94-5.5C | Z94-4.5C | Z94-3.4C | Z94-2.8C | Z94-1.6C |
| Max.nail dia.. | mm | 6.5 | 5.5 | 4.5 | 3.1 | 2.8 | 1.6 |
| Min.nail dia. | mm | 3.4 | 3.1 | 2.8 | 1.8 | 1.2 | 0.9 |
| Max.nail length | mm | 203 | 152 | 100 | 75 | 50 | 25 |
| Min.nail length | mm | 100 | 70 | 50 | 30 | 16 | 9 |
| Designed production | pcs/min | 160-200 | 180-220 | 280 | 300 | 320 | 460 |
| Motor power | kw | 11 | 5.5 | 4 | 3 | 2.2 | 1.5 |
| weight | kg | 5500 | 2600 | 2000 | 1800 | 1450 | 1200 |
| Overall dimension | mm | 3250×1850×1800 | 2600×1700×1700 | 2200×1600×1650 | 2000×1400×1400 | 1700×1300×1400 | 1500×1300×1200 |